Samba - rythm of Brazil
«Recife
«Entertainment in Recife and Pernambuco
«Culture of Pernambuco
«Carnival in Recife
«Carnival in Olinda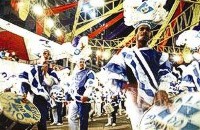 Samba:

It is impossible to discuss the origins of samba without coming up against the controversial question of who the actual pioneers were. To whom should we attribute the samba? Where should we begin? The musicologist Bernardo Alves has the highly original and curious idea that the samba in fact, began with the Cariri natives, from the Northeastern hinterlands and it then evolved to the modern version we see today. This evolution took place after the coming together of native and African dances in the rural area of the Zona da Mata. The important element that caused this intersection of the two groups was the traveling salesman, who journeyed by mule cart from the ports to the hinterlands and back again.

One thing is certain, in Brazil, the history of samba would have been very different if there had not been a black community in Rio de Janeiro, with origins from Bahia, and that was very involved with the famous religious leader (the yalororixá), Tia Ciata. It was in her house that the cream of the negro composers met - Sinhô, Donga, Pixinguinha, Heitor dos Prazeres, João da Baiana.

The basis of Samba is in the percussion, and it is this that permits the dancer "to speak the samba with his feet". In this way he not only demonstrates grace and sensuality, but also total harmony with the beat of the percussion.

There are in all - eleven first drums, eleven second drums and seven third drums; there are also nine agogôs (mentioned in the previous afoxé section), several whistles, thirty bells, several tambourines and 43 drums; there are also 77 tamborins (a very small handheld drum), nine cuícas*, 87 chocalhos*, four reco-recos (a kind of metal maraca) and 13 ganzás (another type of maraca). Shake well and stir without stopping. The final result will be one enormous Samba School.

In Pernambuco, the samba schools have acquired their own characteristics. According to the researcher Roberto Benjamin, they have incorporated instruments and dance elements inherited from the frevo, the maracatu, capoeira and numerous other regionally expressed cultural identities. Roberto Benjamin also states that " the traditions of Pernambuco are to be found in the samba schools, manifesting themselves in the percussion and the dancers, thus bringing about a samba that is authenticaly from Pernambuco, and whose consecration comes ever nearer".

Source: Website of the city of Recife.