Manguebeat or manguebit - musical rythm of Recife
«Recife
«Entertainment in Recife and Pernambuco
«Culture of Pernambuco
«Carnival in Recife
«Carnival in Olinda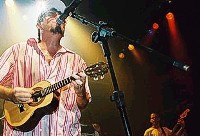 Manguebeat or Manguebit.

Literally, manguebeat or manguebit means "the rythm (beat) of the mangues"; mangue is the Portuguese word for mangrove, a kind of eco-system which exists all along the coast of Pernambuco. The founders of the manguebeat movement were proud of their origins, and used the mangue to symbolize the rythm; mangroves are the natural habitat of crabs, hence the frequent reference to them among the manguebeat groups.

The movement appeared in the town of Recife, in the early 90s, when bands like Chico Science & Nação Zumbi (CSZN) and Mundo Livre S.A. (Free World Co.) began inserting the newest pop elements available (rap, electronica and neo-psychedelic brit rock) into traditional folk styles from Pernambuco (maracatu, coco, ciranda, etc.). Originally named Mangue Bit (as in bits and bytes), the movement produced and issued the manifesto Caranguejos com Cérebros (Crabs with Brains), written by former punk Fred 04 (leader of mundo livre) and local journalist Renato L. in 1992. "Icon image: a satellite dish sticking out of the mud. Or a crab re-mixing Kraftwerk' Anthena in the computer", they said.

The "research and production nucleus for pop ideas", articulated by the kids in Recife, aimed at "engendering an energetic circuit so as to connect the good vibes from the mangroves with the world net of pop concept circulation". Then there was a denomination for mangueboys and manguegirls: "(...) are individuals interested in: comics, interactive TV, anti-psychiatry, Bezerra da Silva, hip hop, midiotics, artism, street music, John Coltrane, randomness, non-virtual sex, ethnic conflicts and all chemical advances applied in mind alteration and expansion", said the manifesto.

Chico Science & nação Zumbi and Mundo Livre S/A released their debut albums in 1993, respectively Da Lama ao Caos and Samba Esquema Noise (the title makes an explicit reference to a major influence in 04's music, Jorge Ben, whose first album was called Samba Esquema Novo). With songs like A Cidade and A Praieira and a well-concocted fusion of rap and maracatu, CSZN instantly gained popular recognition - in spite of both records being equally acclaimed by the critics all over Brazil. On the trail of the two bands, other groups appeared in Recife, also mixing pop elements with local, traditional music: Jorge Cabeleira e o Dia em Que Seremos Todos Inúteis, Mestre Ambrósio, Cascabulho, Sheik Tosado. Some bands didn't care much for the mix, playing straight rock or punk rock, like Devotos (former Devotos do Ódio), Querosene Jacaré and Eddie. A rap scene also emerged with groups like Faces do Subúrbio and Sistema X.

Visit the next link to listen to a sample of manguebeat (click button at the bottom of the next page).

Source: Website of the city of Recife.