Coco de Roda - rythm and dance of Pernambuco
«Recife
«Entertainment in Recife and Pernambuco
«Culture of Pernambuco
«Carnival in Recife
«Carnival in Olinda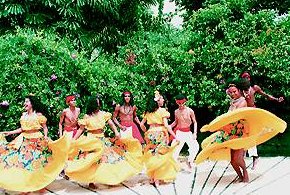 The coco can be danced with or without shoes. Also, it does not have its own appropriate costume. In order to participate, the people can use any kind of clothing. There is also, apparently, no special time of the year to dance, although it is more often seen in June. Musically speaking, there is a predominance of percussion instruments. According to folklore researchers, the most commonly used instruments are - ganzás (a kind of maraca), bombos (drums), zabumbas (a deeper drum), caracaxás (a kind of scraped rattle, often made of undulated metal and scraped with a small stick to produce the sound) and cuícas (a drum -like instrument that makes a squeaking sound). However, to form a circle of coco it is not necessary to have all, or indeed any of these instruments. Very often, the dance takes place with just the clapping of the participants' hands.

Within its general characteristics it is possible to notice one distinct distinguishing feature - community spirit. There is always a very happy atmosphere where men, women, children of all social classes sing and dance together without distinction. In what is referred to as its ethnic influences, the African influence is most prevalent, mainly in its rhythm, and most certainly in its movements. But, there is also a very strong native contribution to the choreography. Both the circle and the lines are aspects that were inherited from our natives.

Today the coco is ever present in the festivities of our people. Selma and many other traditional conquests are examples of the resistance and strength of an authentic and original manifestation. This contagious rhythm has influenced numerous popular composers through the ages, and even contemporary Pernambuco music . The famous Jackson do Pandeiro influenced Chico Science, Alceu Valença and many other local musicians who have consistently searched for this playful aspect in the creation of their work.

Source: The city of Recife.