Camaragibe - Pernambuco
«Recife
« Cities of Pernambuco





Population: 128.702 inhabitants
Area: 55 km2
Distance form Recife: 10 km
Accesses: BR-408 and avenues of Recife. Visit also the section maps of Recife and Pernambuco.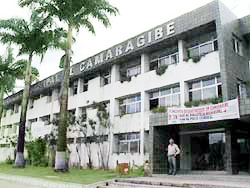 History
The area where today is located the municipal district of Camaragibe used to be taken by the indians, until the arrival of the Portuguese led by Duarte Coelho Pereira, around the middle of the XVI century.
The word "Camaragibe" comes from the indian word "Camará-Gype" (Camará River), in reference to the "lantana-camará", abundant plant in the region, better known as "Chumbinho".
The pau-brasil (brazilwood) which abounded in the area was quickly destroyed. In the late 1500s, several sugar cane farms had already established in Camaragibe.
The farms quickly became successful. A farm called Camaragibe was one of the biggest in Brazil and so productive that it was invaded by the Dutch in 1645; to prevent the invasors from benefiting of the structure of the farm, owners and indians set it on fire before running away.
On May 13th of 1982 Camaragibe gained autonomy (it used to be administered by the city of São Lourenço da Mata), becoming a city with own Executive and Legislative powers.
Because of its proximity with Recife and its milder climate, Camaragibe has becoming an option of residence for people escaping the agitation of the capital. A few upscale condos have been built in the city, particularly in a region called Aldeia.

Economy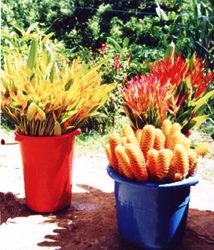 Thanks to the favorable climate, Camaragibe is the biggest producer of tropical flowers in the State of Pernambuco (see photo), which is in turn the biggest producer among all States in Brazil. The flowers from Camaragibe are sent to all States in Northeast of Brazil as well as to European countries.

Situated in the Metropolitan Region of Recife (MRR), the city of Camaragibe has the economy based in the sectors of commerce and services, particularly those related with travel and tourism.
Besides Camaragibe, the Metropolitan Region comprehends also the municipal districts of Recife, Olinda, Jaboatão dos Guararapes, Abreu e Lima, Paulista, Igarassu, Itapissuma, Itamaracá, Cabo de Santo Agostinho, Ipojuca, São Lourenço da Mata, Araçoiaba and Moreno. The total area of the Metropolitan Region it is of 2.766 km², covering 2,82% of the pernambucan territory.


Tourism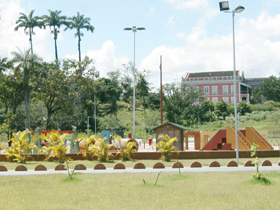 It is the region of Aldeia, the area Camaragibe at highest altitude, that attracts the largest number of visitors to the city. With a pleasant climate and plenty of green area, the place has several country clubs, spas, cozy restaurants, rustic hotels (most offering horse rides).
Particularly on weekends, it is noticeable an increase in the traffic to and from Camaragibe. Many residents in Recife and Olinda escape their busy routine and go to their chalets to enjoy the peace of the countryside.

Other sites:
Camaragibe Online Camaragibe portal.

Source of information: IBGE e Government of Pernambuco
Credit of photos: Government of the State of Pernambuco.